U.S. Air Force Afterburner

Air Force Afterburner circa 2007.

Owner

FELD Motorsports

Drivers

Damon Bradshaw and Paul Cohen

Body Style

Cadillac Escalade

Engine

540ci Merlin

Transmission

Coan 2-Speed

Tires

66" Terra

Debut

2006

Discontinuation

2011
U.S. Air Force Afterburner debuted in 2006 with driver
Paul Cohen
. Cohen would eventually step out Air Force Afterburner in late 2006 and rookie
Damon Bradshaw
, former motorcycle racer, would begin to drive it until its discontinuation in 2011. The truck was also driven by
Trevor Stimson
at Monsters On The Beach 2006. Air Force Afterburner competed at every World Finals from 2006 to 2011. The truck has been featured in two video games,
Monster Jam: Urban Assault
and
Monster Jam: Path of Destruction
. Air Force Afterburner is also featured in the board game
Monster Jam-Opoly
(Monopoly). The truck has done displays in Times Square.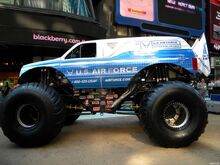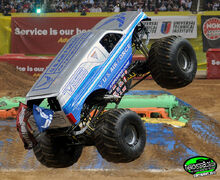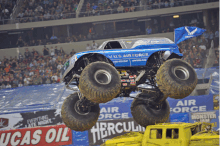 History
Air Force Afterburner had a strong first season in 2006 with driver Paul Cohen, who would get Afterburner its first World Finals invitation.
In late 2006, former motorcycle racer Damon Bradshaw, would take Cohen's place. In Damon's first season, the truck caught on fire twice. Regardless, due to his wild driving style, rookie driver Damon would get Afterburner its second invitation to Las Vegas for the World Finals in 2007. Not surprisingly, Damon would get the award 'Rookie of the Year'.
2008 was another strong season for Bradshaw and the truck, as Damon would get the truck's third invitation to the World Finals.
2009 was probably the Afterburner's best year, as Damon would get the truck its fourth invitation to the World Finals. This time, Damon Bradshaw would get the score of a 36, enough to take the lead and enough to get the Afterburner its first World Finals Freestyle Championship.
In 2010, Damon had yet another strong year with the truck. In Dallas, Damon won racing and tore of the front axel in freestyle. Not surprisingly, he got the truck a fifth invitation to the World Finals. He would tie for second with George Balhan and An Escalade.
2011 was Afterburner's final year, and Damon got the truck to the truck to Las Vegas for the sixth and final time. Damon had a strong 2011 season, getting a racing victory in Dallas and dominating San Antonio with four victories over the weekend.
In 2012 Damon would go on to drive Monster Energy.
World Finals Appearances
2006 - Paul Cohen
2007 - Damon Bradshaw
2008 - Damon Bradshaw
2009 - Damon Bradshaw (won freestyle)
2010 - Damon Bradshaw
2011 - Damon Bradshaw
Trivia
The truck went through 3 Make changes. Starting as a Chevy Silverado, changing to a GMC Raptor from 2006-2008, and Cadillac Escalade from 2009-2011.