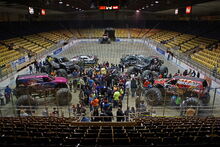 2Xtreme Racing is a monster truck team out of Tonganoxie, Kansas consisting three Ford Expeditions: Bounty Hunter, Scarlet Bandit, and Iron Outlaw.
Bounty Hunter
In 1995, Jim Creten bought the Shark Attack monster truck and renamed it Bounty Hunter. Back then, it was a Chevrolet S-10. In 2002, he changed to the Ford Expedition body. This was also the first year he qualified for the World Finals. He finished as runner-up to Team Meents in racing. He would also finish runner-up to Wolverine (2003), Grave Digger (2006), and Batman (2008). In 2005, he won the World Championship Freestyle. Other drivers of Bounty Hunter have been Darren Migues, Ben Winslow, and Jay McPherson. in 2012, Creten ran a one-off scheme at the World Finals. One side of the truck was its normal scheme, and the other side replaced blue with reflective chrome.In 2013, Creten and Migues get new paint schemes for their chassis. Creten's truck will be virtually the same scheme as the old one he ran, only with blue being replaced by yellow. Migues's truck is the current look, only with blue replaced by black. The current drivers are Jimmy Creten and Austin Minton.
Scarlet Bandit
After several years with Bounty Hunter, Jim Creten added a second truck named 2Xtreme to the team, which would be driven by his wife, Dawn Creten. While Bounty Hunter had a Chevrolet S-10 body on a custom chassis, 2Xtreme was a Dodge Dakota on a Dan Patrick built chassis. Through a series of displays for the company, Checker-Shucks-Kragen (CSK) became an official sponsor of the team in 2000. It was then that 2Xtreme was renamed Scarlet Bandit. In 2005, Dawn Creten qualified for the World Finals. The following year she took some time off to raise her newest daughter. She returned in 2007 with a new Scarlet Bandit truck and made it to the World Finals. In 2008, she was one of three drivers to have the lead at the World Finals. She took time off in 2009 and let Darren Migues drive the truck. She drove Iron Outlaw at a few events in 2009. In 2010, she drove Iron Outlaw in January, and drove Scarlet Bandit in February and at the World Finals encore. In 2017, she competed in the FS1 Series West with Jimmy in the Bounty Hunter. In 2018, Scarlet Bandit competed on Monster Jam Stadium Tour 2 & 3.
Iron Outlaw
While Dawn Creten was taking time off in 2006, the Scarlet Bandit truck became Iron Outlaw and was driven by Linsey Weenk. He had a seven-race winning streak and made it to the 2006 World Finals. He also made it to the 2007 World Finals. Following the 2007 season, he left 2Xtreme Racing to drive the Built Ford Tough Blue Thunder. Iron Outlaw has had various drivers after Weenk's departure, including Kreg Christensen, Joe Miller, Darren Migues, Dawn Creten, Jay McPherson, Nick Owens ,Ben Winslow and Mike Christensen. It is now driven by Tanner Root.